Antelope Audio Zen Tour
Fits the whole band
Antelope Audio Zen Tour. Portable – Covering The Needs Of The Whole Band
Current technologies have made sound recording as easy as grabbing a pen and pouring your feelings on paper. So producing your own music has become the contemporary equivalent of writing poetry.
Unlike the solitude that writing requires, music creation is usually a shared experience. And a creative jam with friends will require at least eight channels, packed in a portable interface that could easily fit in a backpack. A simple two or four-channel audio interface is no longer enough.
ZEN TOUR'S HARDWARE-BASED VINTAGE FX.
Forget about buying expensive DSP plugins. Zen Tour offers something better.
Get creative with Antelope's brand new hardware-based FPGA effects. These include guitar amps & cab simulations, legendary EQ and compressor emulations, plus the extremely versatile AuraVerb reverb.
Key Features
4 MIC/LINE & 4 LINE/HI-Z INS
4 mic pres & 4 line/hi-z ins with phantom power, 8 analog outs, 2 headphone and 2 reamp outs, plus an array of digital I/O
ZERO LATENCY
Guitar amp modeling and effects processing with virtually 0 latency
NETWORKING CONTROL
Advanced Remote Apps
Control Zen Tour from multiple computers or via mobile and desktop apps
THUNDERBOLT™ & USB
32 channels via Thunderbolt™ and 24 on USB for zero-latency audio streaming
VINTAGE GUITAR FX
FPGA based hardware models of vintage gear and equalizers, at no cost
STUNNING AD/DA
24-bit, 192 kHz audio and Antelope's signature flawless conversion
UNBEATABLE AMOUNT OF I/O
For A Device Of That Size.
With Zen Tour we have pushed the envelope once again.
Antelope is offering not just a portable Thunderbolt™ & USB audio interface, but a pro piece, easily covering the needs of a small band.
Zen Tour comes with 4 switchable Mic/Line inputs and 4 more HiZ/Line ins.
Two reamp outs and a Talkback button on the front panel put it in the spotlight of portable interfaces.
FORGET ABOUT LATENCY
Custom FPGA Will Allow You To Create And Stream Multiple Complex Mixes And Process Audio With Zero Latency.
Zen Tour borrows the powerful Field-Programmable Gate Array (FPGA) from Antelope Audio's top-selling pro studio devices.
This game-changing technology provides the interface with massive parallel processing capabilities, thus the lowest latency levels on the market.
ENHANCED CONNECTIVITY
Have Tons Of Gear Hooked In – Zen Tour Has Quite A Few Options
Some portable interfaces have to go for either a decent amount of I/O channels or high-end DSP effects.
Zen Tour gives you all:
4 switchable Mic/Line
4 HiZ/Line ins
8 analog outs
digital I/O on ADAT & S/PDIF
two independent headphone amps
two separate pairs of monitor outs.

Plus, the FPGA powered Thunderbolt™ & the custom USB make the Zen Tour lightning fast and compatible with any DAW.


TOUCH & CONTROL
Rediscover Your Studio Workflow With The Advanced Zen Tour Control Options
All of Zen Tour's features are controllable via its high-resolution touch screen.
The portable audio interface can be also managed via the Antelope Audio's Software Control Panel for OS X and Windows and via Android and iOS mobile apps for smartphones and tablets. So both the producer and the recording artists can control Zen Tour.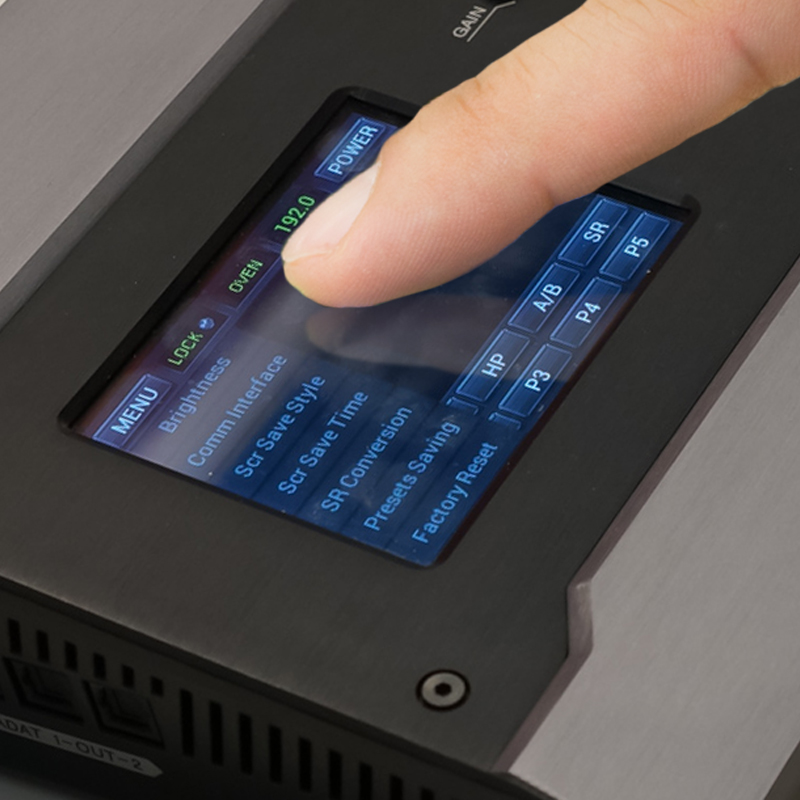 ANALOG

Analog Inputs
4 x Mic / Line Instrument on XLR combos on the back
4 x Hiz / Line on TRS on the front

Analog Outputs
8 x Lines on 1 x DB25 (8 channels)
2 x Stereo Monitor out on TRS (4 channels, only 1 active at a time)
2 x Stereo Headphone out on TRS (4 channels)
2 x ReAmp outs on TRS (2 channels)

D/A Monitor Converter
Dynamic Range: 129 dB
THD + N: -108 dB

D/A Converter
Dynamic Range: 120 dB
THD + N: -107dB

A/D Converter
Dynamic Range: 124 dB
THD + N: -112 dB

Mic Preamp
Gain: 0 – 65 dB
THD + N: -108 dB
DIGITAL

Digital Inputs
2 x ADAT (up to 16CH)
1 x S/PDIF

Digital Outputs
2 x ADAT (up to 16CH)
1 x S/PDIF

USB I/O
USB 2.0 Hi-Speed;
Data stream up to 480 Mbits/192kHz, 24 channels I/O, Type B

Thunderbolt™ I/O
1 x Thunderbolt™, 32 channels I/O
CLOCKING

Clocking System
4th Generation Acoustically Focused Clocking
64-bit DDS
Oven Controlled Crystal Oscillator

Clocking Stability
<+/-0.02 ppm, oven controlled at at 64.5ºC/ 148.1ºF

Clock Aging
< 1 ppm per year

Clock Calibration
<+/-0.001 ppm

Sample Rates
32, 44.1, 48, 88.2, 96, 176.4, 192 (kHz)
OTHER

Operating Temperature
0-50°C, 32-122°F

Weight
1.4 kg / 3.10 lb (approx)

Dimensions (Approx)
Width: 255 mm / 10"
Height: 59 mm / 2.4"
Depth: 166 mm / 6.5″

Electrical specs
DC Universal input: 18V
Power Consumption: 25 Watts Max

In the box
Zen Tour – Portable Thunderbolt™ and USB AD/DA Interface
Wall Wart Power Supply Unit
Cleaning Cloth
1 USB cable
Owner's Manual
Warranty Card

Windows

OS: Windows 7/8/8.1/10
Disk Space: Minimum 512 MB available disk space
USB: 1x USB 2.0 Port
Required USB bandwidth: 80%-90%
CPU: Intel or AMD equivalent CPU with at least 2GHz operating frequency
Memory (RAM): 4GB Minimum (8GB or more Recommended)

MAC

OS X: 10.9/10.10/10.11/10.12 (Sierra Recommended)
Disk Space: Minimum 512 MB available disk space
USB: 1x USB 2.0/3.0 Port
Thunderbolt: 1x Thunderbolt/USB-C Port
Required USB bandwidth: 80%-90%
Memory(RAM): 4GB Minimum (8GB or more recommended)
CPU: Intel Core 2 Duo (Minimum) Intel Core i3 ™ or higher (Recommended)
Shipment processing time
All orders are processed within 2-3 business days.
Real-time order tracking information will be sent via SMS and EMAIL once your order has been successfully processed and captured.
Standard/Free shipping does not include delivery on weekends or holidays.
Deliveries on weekend and holidays can be arranged at an extra charge to customer.
If we are experiencing a high volume of orders, shipments may be delayed by a few days. Please allow additional days in transit for delivery. If there will be a significant delay in shipment of your order, we will contact you via email or telephone. We appreciate your patience!
Shipping rates & delivery estimates
Orders below R850 does not qualify for free shipping.
Please factor in a nominal nationwide economy road 2-3 Day ETA charge of R150.
| | | |
| --- | --- | --- |
| Shipment method | Estimated delivery time | Shipment cost |
| Economy Road | 2-3 business days | Free / R850 and above |
Everyday shipping as per Economy Road freight, we work with a few different courier companies and special services are available. Please request any service which'll be the most convenient for you and Technical Sales will gladly investigate it and revert for your consideration.
* Overnight delivery is only available for orders with delivery addresses within South Africa and confirmed before 10AM the given morning.
Delivery delays can occasionally occur, your Technical Sales Rep will keep you up to date.