Roland VR-4HD HD Video Mixer
Roland VR-4HD HD Video Mixer
Complete HD Video Studio That's Ready to Travel
Leave your bulky video gear at home — the Roland VR-4HD comes loaded with everything you need to switch, mix, compose, and record pro-quality HD video and multichannel audio. With six inputs, the VR-4HD's 4-channel video mixer delivers the extensive flexibility you need to cover a wide range of video production applications. The integrated 18-channel audio mixer includes four clear microphone preamps and two stereo line inputs, each with its own dedicated fader. Plus, the VR-4HD includes powerful auto-mixing DSP, so managing levels is easy. Switch, comp, and set up cool transitions, all from the large touchscreen multiviewer. And thanks to its high-speed USB 3.0 connection, the Roland VR-4HD also plays well with your favorite NLE and streaming software.
Equipped with four HDMI inputs plus connections for RGB/Component sources, the VR-4HD is ready to tackle serious video mixing jobs. Channel 4 even includes an integrated scaler for full compatibility with standard-resolution video sources. You also get both progressive and interlaced signal support, allowing you to use both 1080i and 1080p sources at the same time. Presentation and monitoring duties are deftly covered via separate HDMI preview and main outputs, as well as an RGB/Component out for analog systems. And thanks to the USB 3.0 connection, it's easy to stream and record video directly from the VR-4HD, which includes Roland's VR Video Capture software.
Killer compositing effects
The DSP compositing effects onboard the VR-4HD are truly impressive. For starters, check out its downstream keying capabilities. Whether you're luminance keying or chroma keying, the crisp and accurate results it delivers offer a level of consistency you don't typically see in portable video mixers. It's great for overlays, text, and more. You can also combine multiple feeds via picture-in-picture, split, and quad effects, which makes the VR-4HD ideal for broadcast, corporate presentations, and video conferencing. Top it off with Roland's standard multitude of transition effects, and the VR-4HD's potential is truly staggering.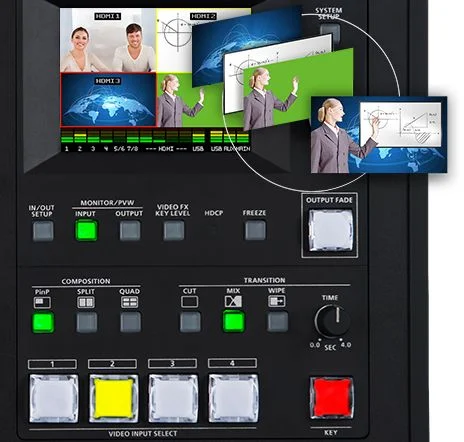 18-channel audio mixer onboard
Great video can't save bad audio, and the Roland VR-4HD delivers the sound quality and the I/O you need for professional sound. Onboard, you'll find a powerful 18-channel digital mixer, complete with four microphone preamps and two stereo line inputs, plus level management for all four HDMI video sources. XLR and RCA stereo outputs let you connect to any PA or broadcast system, and there's an extra stereo aux output onboard.
Auto Mixing makes your job easy
Managing audio and video at the same time can be pretty stressful if you're flying solo. If you aren't an audio pro but still need professional results, then you're going to love the VR-4HD's Auto Mixer as much as the video crew at Sweetwater does. Its DSP-driven Auto Mixer mix control algorithm automatically manages the levels of all four microphone channels. That means there's no need to ride the faders to keep multiple speakers balanced in the mix. What's more, the Auto Mixer pulls down unused microphone channels, which cuts out most of your typical noise issues.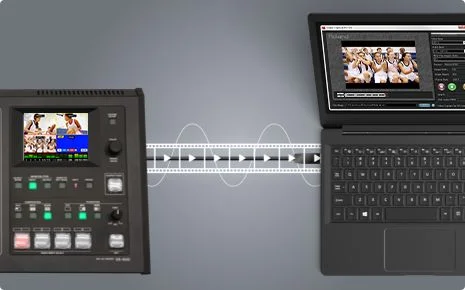 Echo suppression and lip-sync delay onboard
When you deal with multiple digital video sources, chances are no two of them will carry the same latency. Ordinary video mixers suffer from severe audio and video sync issues, but the VR-4HD dodges this particular bullet thanks to its integrated delay. It also includes an amazing Echo Cancel feature, which suppresses the audio return from video applications such as Skype. That makes the VR-4HD an ideal choice for web conferencing applications.
Expand your control with VR-4HD RCS
VR-4HD RCS is an application that makes it easy to expand your control options by connecting your VR-4HD to your computer. Copy settings, backup your system, and take control of every parameter — all right from an easy-to-use graphic user interface. There are also RS-232C and TALLY/GPIO connections, which open up even more remote control options.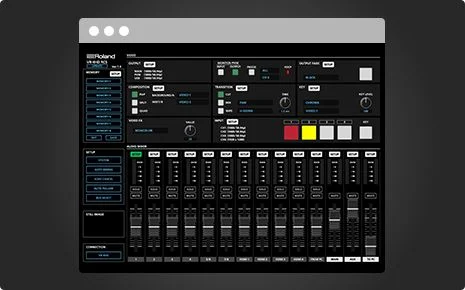 Roland VR-4HD Digital Video/Audio Mixer Features:
A flexible all-in-one video- and audio-production workstation
6-input/4-channel video mixer handles extensive HD video sources
Includes scaler and RGB/Component I/O for old video technology
Simultaneous 1080i and 1080p support lets you work with any HD source
Hands-on control including a large touchscreen multiviewer makes operation simple
Amazing compositing effects include downstream keying, picture-in-picture, spilt

, and quad modes

External multiview output via HDMI onboard
18-channel digital mixer onboard for analog inputs and embedded HDMI audio sources
4 microphone preamps easily accommodate conferencing and presentation needs
Auto Mixing takes the stress out of level management for professional results every time
Audio de-embedding with adjustable delay lets you keep audio and video in sync
USB 3.0 connection lets you stream and record both video and audio
Echo Cancel function prevents audio loopback from video-conferencing applications such as Skype
Expand your control options with the VR-4HD RCS application or TALLY/GPIO remotes
Video Processing
4:2:2 (YPbPr), 8-bit
Video Inputs
4 x HDMI Type A (channels 1-4)
1 x VGA/Component (channel 4 only)
1 x RCA, Composite (channel 4 only)
Video Outputs
2 x HDMI Type A (preview and main)
1 x VGA/Component (main)
1 x USB 3.0 Type-B
Input Format Support
HDMI-Only Channels:
1080p 50/59.94
1080i 50/59.94
720p 50/59.94

Channel 4 Video:
1080p 50/59.94
1080i 50/59.94
720p 50/59.94
576p 50
480p 59.94
NTSC
PAL

 

VESA:
VGA (640 x 480)
SVGA (800 x 600)
XGA (1024 x 768)
WXGA (1280 x 768)
SXGA (1280 x 1024)
FWXGA (1366 x 768)
SXGA+ (1400 x 1050)
UXGA (1600 x 1200)
WUXGA (1920 x 1200)

Note: Composite input only supports NTSC and PAL formats

Output Format Support
Main:
1080p 50/59.94
1080i 50/59.94
720p 50/59.94
576p 50
480p 59.94
NTSC
PAL

VESA:
VGA (640 x 480)
SVGA (800 x 600)
XGA (1024 x 768)
WXGA (1280 x 768)
SXGA (1280 x 1024)
FWXGA (1366 x 768)
SXGA+ (1400 x 1050)
UXGA (1600 x 1200)
WUXGA (1920 x 1200)

Preview:
1080p 50/59.94
1080i 50/59.94
720p 50/59.94

USB:
1080p 25/29.97
720p 25/29.97
Audio
Audio Sampling
24-bit, 48 kHz
Audio Formats
HDMI: 2-channel LPCM, 24-bit, 48 kHz
USB: 2-channel LPCM, 16-bit, 48 kHz
Audio Inputs
4 x XLR/TRS combo (channels 1-4)
1 x Stereo RCA (channels 5-6)
1 x 3.5 mm stereo (channels 7-8)
1 x USB 3.0 Type-B, stereo return
Phantom Power
48 VDC, 10 mA (maximum)
Audio Outputs
1 x XLR stereo pair
1 x RCA stereo pair
1 x USB stereo
1 x 3.5 mm stereo headphone
Signal Level / Impedance
XLR/TRS Combo:
Input Signal Level: -60 to +4 dBu (maximum +22 dBu)
Input Impedance: 10 kOhms (gain 0-23 dB), 5 kOhms (gain 24-64 dB)

RCA:
Input Signal Level: -10 dBu (maximum: +8 dBu)
Input Impedance: 15 kOhms
Output Signal Level: -10 dBu (maximum: +8 dBu)
Output Impedance: 1 kOhm

XLR:
Output Signal Level: +4 dBu (maximum: +22 dBu)
Output Impedance: 600 Ohms

3.5mm (input):
Input Signal Level: -15 dBu (maximum: +3 dBu)
Input Impedance: 15 kOhms

3.5mm (headphones):
Output Signal Level: 75 mW + 75 mW
Output Impedance: 32 ohms
General
Other Connectors
1 x 9-pin, RS-232
1 x 15-pin, Tally/GPIO
Display
320 x 240 touchscreen color LCD
Power Consumption
12 VDC, 3 A, 36 W
Operating Temperature
32 to 104°F / 0 to 40 °C
Dimensions
13.3 x 8.5 x 3.4" / 33.9 x 21.7 x 8.7 cm
Weight
5.3 lb / 2.4 kg
Packaging Info
Package Weight
8.45 lb
Box Dimensions (LxWxH)
17.7 x 12.7 x 7.2"
Shipment processing time
All orders are processed within 2-3 business days.
Real-time order tracking information will be sent via SMS and EMAIL once your order has been successfully processed and captured.
Standard/Free shipping does not include delivery on weekends or holidays.
Deliveries on weekend and holidays can be arranged at an extra charge to customer.
If we are experiencing a high volume of orders, shipments may be delayed by a few days. Please allow additional days in transit for delivery. If there will be a significant delay in shipment of your order, we will contact you via email or telephone. We appreciate your patience!
Shipping rates & delivery estimates
Orders below R850 does not qualify for free shipping.
Please factor in a nominal nationwide economy road 2-3 Day ETA charge of R150.
| | | |
| --- | --- | --- |
| Shipment method | Estimated delivery time | Shipment cost |
| Economy Road | 2-3 business days | Free / R850 and above |
Everyday shipping as per Economy Road freight, we work with a few different courier companies and special services are available. Please request any service which'll be the most convenient for you and Technical Sales will gladly investigate it and revert for your consideration.
* Overnight delivery is only available for orders with delivery addresses within South Africa and confirmed before 10AM the given morning.
Delivery delays can occasionally occur, your Technical Sales Rep will keep you up to date.